About Bushwhacker
Come in the store to meet the experts in their unnatural habitat.  On course. Off-road. Or in the middle of a downhill adventure. We've used the equipment and outdoor gear we stock on the shelves. And we can tell you about it.
Turning the learning curve into a lifetime of adventure.
At Bushwhacker, we sell outdoor gear to two different types of people — those who don't know where to start, and those who never know when to stop. No matter which group you fit into, you'll find the resources you need here to improve your performance and share your passion for the great outdoors.
With our roots in backpacking and hiking, the store has changed a lot, since cleats and climbing rope were among its top sellers. Today, Bushwhacker is one of the area's largest bike shops, with a broad assortment of kayaks, clothing, backpacks, and other outdoor gear that changes with every season. But for all those who've walked through the doors of this local Peoria store, it continues to be something more.

For the beginner, it's the starting point, where advice is free, and questions are always encouraged. And for the pros, it's the connecting point — the one place where they return time and time again to share their passion for sport. And perhaps more than anything, it's that atmosphere of collective exploration that keeps Rich invested after 50 years of retail. In fact, 2021 is Bushwhacker's 50th anniversary. "You can't package that sort of vibe. That's real. That's us." And that's why Bushwhacker continues to be one of Illinois' greatest original brands.
Come in and see us, right here in Peoria.
Meet the Team

Rich
The owner of Bushwhacker started working at the original store in Champaign in 1974. A math nerd turned rock climber. Rich quickly decided that exploring all things outdoors was a lot more interesting than key punching old-style IBM cards in the computer lab. He opened the Peoria store at Main and University in 1976.
The Champaign and Springfield stores were gone by 1984, victims of changing demographics and unchanged business models based largely on backpacking and cross-country skiing. Rich, on the other hand, explored new opportunities in skateboards, windsurfing, downhill skis, patio furniture, and bicycling.
Perhaps not surprisingly, his favorite part of the store is all of it. When he's not at the store or playing tournament bridge, you're likely to find him at home in Peoria, wearing his favorite 20-year-old North Face fleece.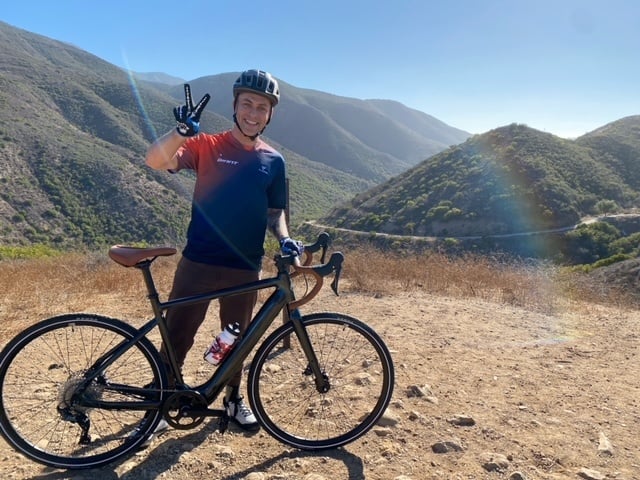 Drew
Our charismatic General Manager brings with him a wealth of experience from HR and business management to bike shop management.  He's twice a Bushwhacker Alum and now twice a bike shop manager.
Drew has gained incredible experience and traveled all over the world and country working for the Red Cross, Caterpillar, and even regenerative farming.  With a broad background in martial arts, you might find Drew swinging nunchucks on a frosty morning, but don't let that fool you, he's a big softy.  Any given day he might be geeking out on bikes, playing his guitar, practicing kung fu, mountain biking, climbing at the gym with staff, shopping for MORE action figures or watching chicken tv at home. 
Drew loves working at Bushwhacker for the broad spectrum of support a friendly bike shop and outdoor store provide to a community thirsty for more adventure!  We'd hate not to mention how much he loves the crew he works with, supports and builds up every day at the store. A lot!  Drew looks forward to getting a high school NICA mountain bike club up and running this season!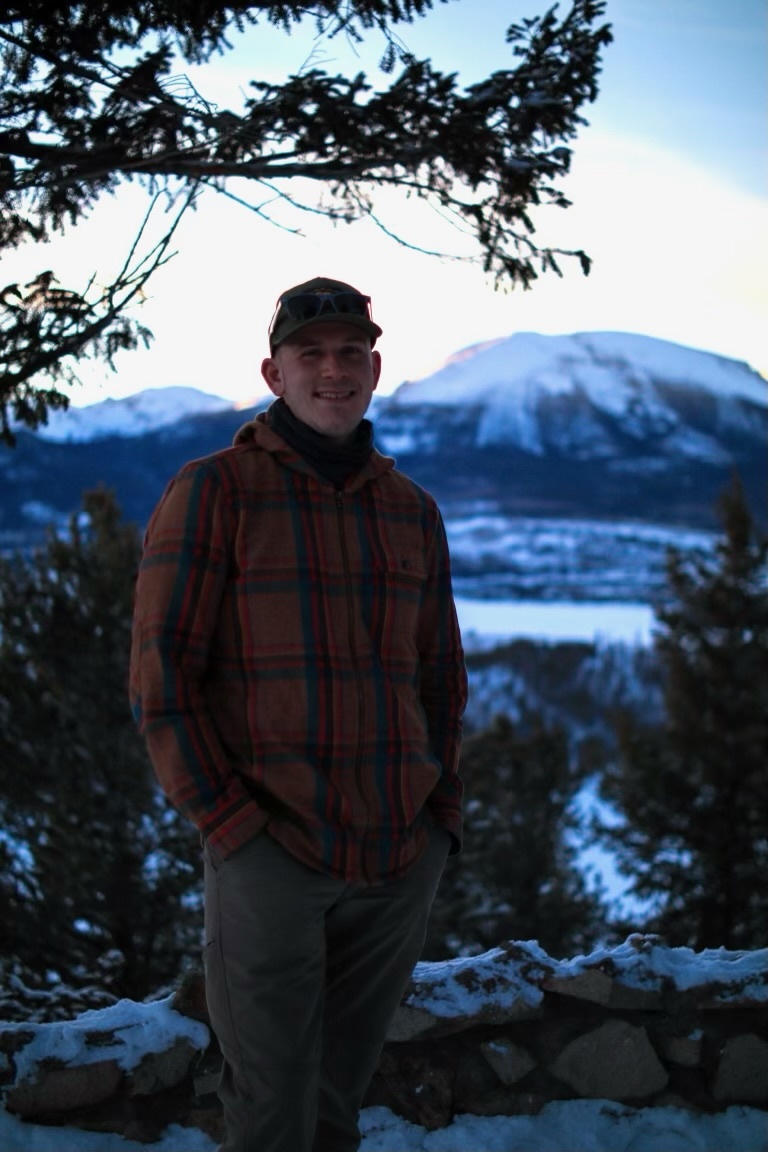 Jake
Our lovable Assistant Manager!  Jake loves promoting any outdoor activities, and the physical and mental wealth that comes with the great outdoors. You might find him on the sales floor, building furniture, fitting ski boots, on his snowboard, or on the dance floor.  He spends a lot of his free time loving on his dogs and enjoying great music. Jake loves having a job that allows him to serve his community and provide the knowledge to help people get outside.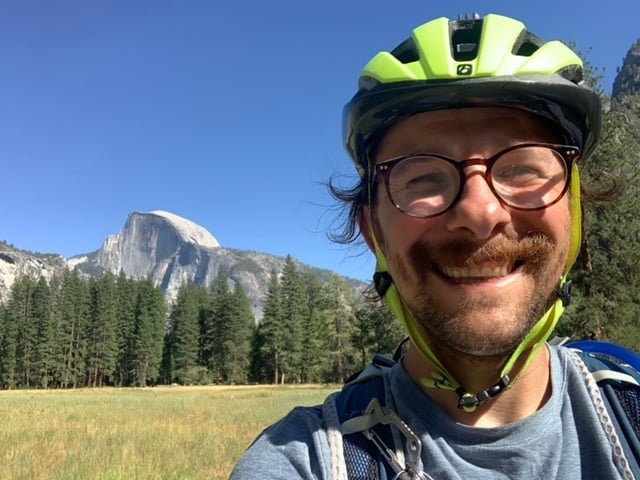 Danny
Our awesome service lead in bike and ski!  Backed with years of hard earned training and experience, Danny has taken Bushwhacker's service department to the next level.  When we talk about friendly experts, Danny goes a step above with friendly education.  He gives our customers as well as his coworkers the best education possible weather the topic is the edge of a ski or full bottom bracket rebuild and does it in a "we're on the same level" manner of respect.  We try not to give him a hard time for being a Phish fan since he can play A LOT of instruments and 'band' any of us under the table. 

Matt
Our go-to patio furniture guy and board guru! Matt can answer any of your questions about our poly furniture and builds a lot of it.  He's passionate about longboarding and has built quite a few of his own.  Matt looks forward to learning more about backpacking and overnight trekking. He enjoys how much he's learned about all the gear here at Bushwhacker.  Matt's most recent obsession is downhill skiing!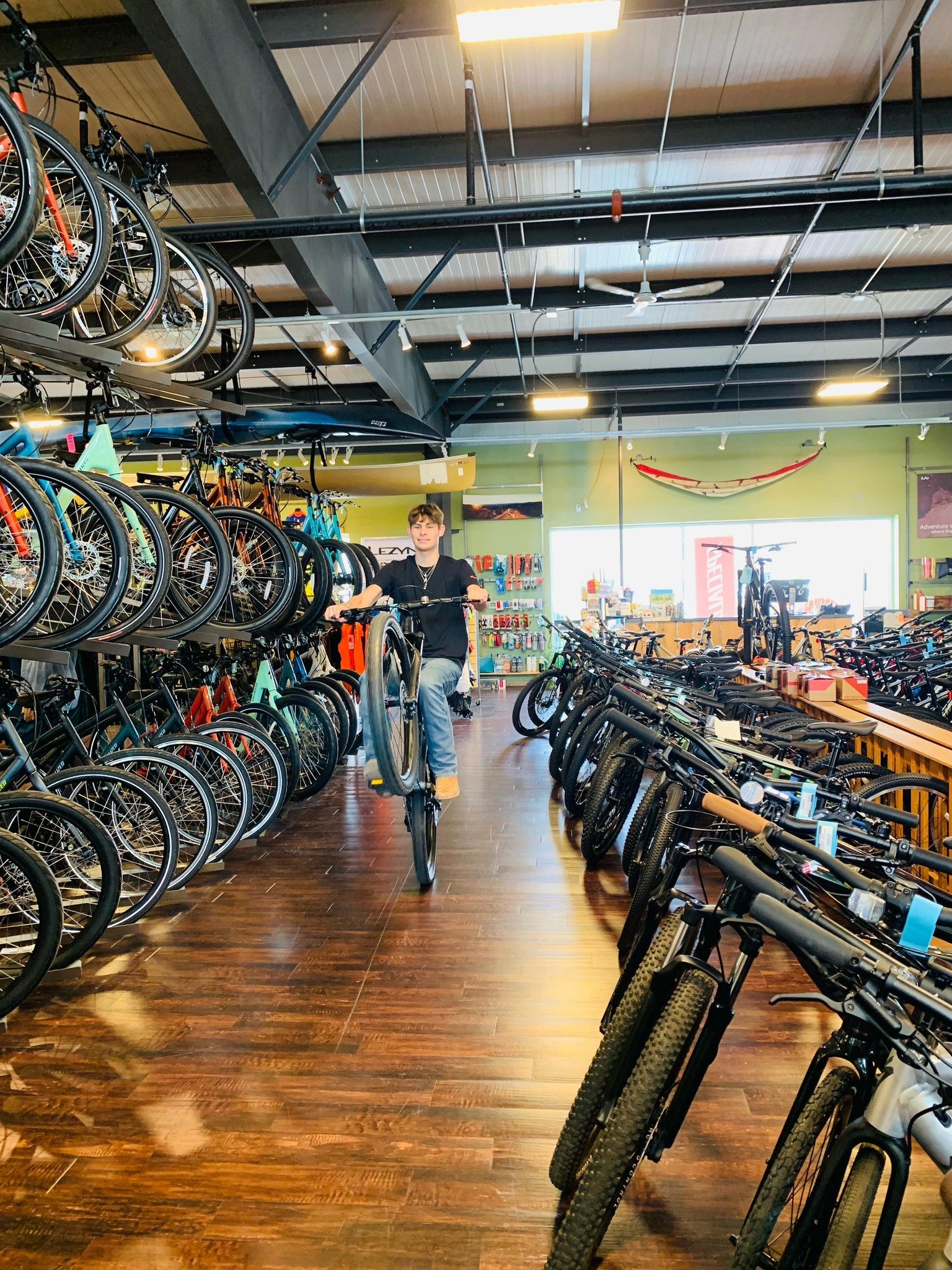 Wyatt
Bike mechanic or ski tech, he put's his whole heart into it!  Wyatt has flourished in his mechanical skills with training and experience and can be found in full wheelie on his post-bike-build test rides through the parking lot.  Wyatt loves his job and getting to do cool things here at Bushwhacker like working on bikes and skis and the opportunity to learn about stuff like wrenching, skiing, and snowboarding from getting real experience!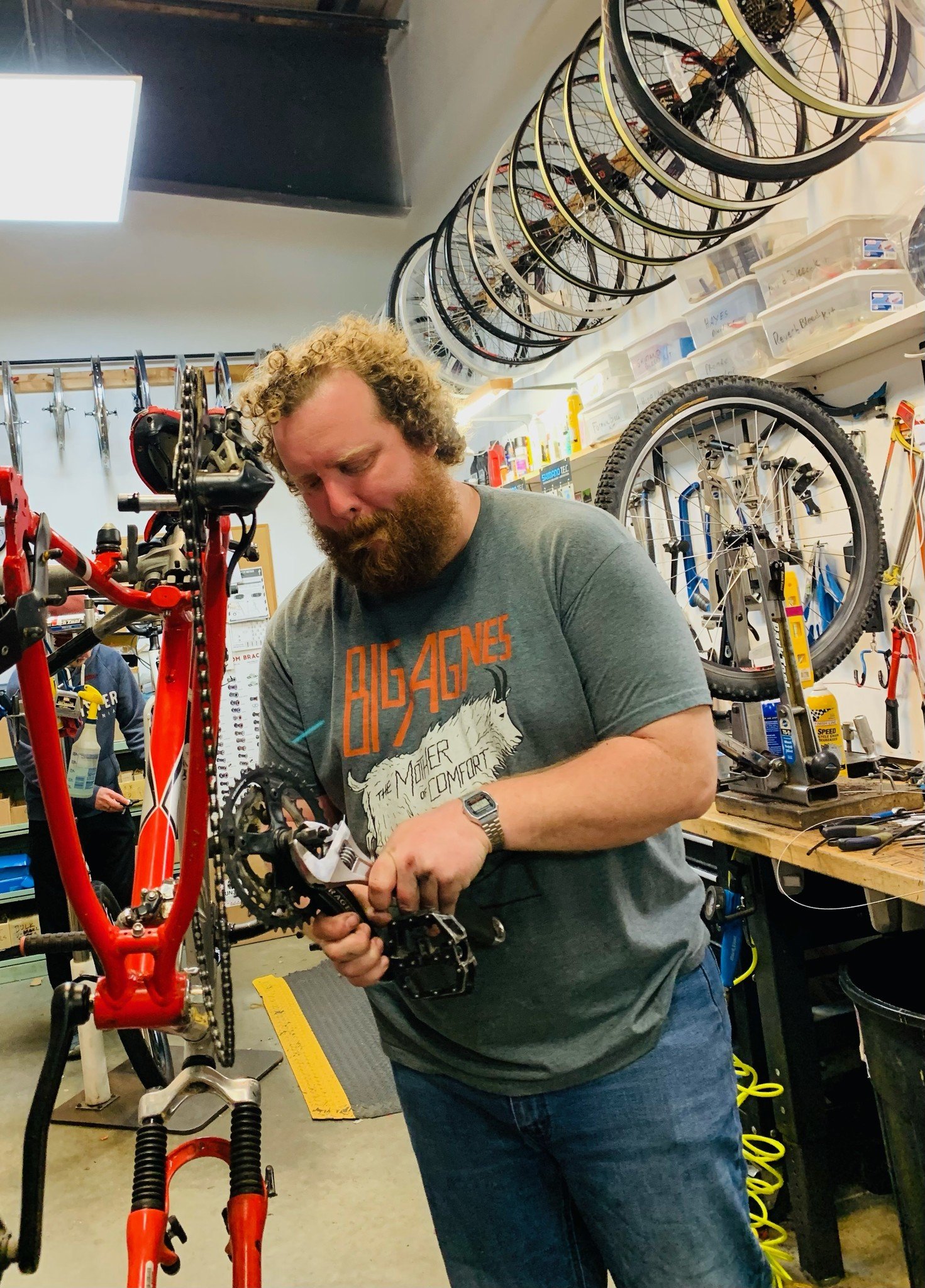 Aaron
One of our very experienced and excellent mechanics takes care of some of our more complicated cycling repairs to ensure top-quality service.  Aaron has a passion for classic bikes and could talk components for hours. Aaron is an accomplished musician and shares his time between us and his many gigs from Peoria to Colorado to the Virgin Islands!  Aaron loves working at Bushwhacker because he can back the attention to detail mirrored in his coworkers in our service department and feed his passion for bikes.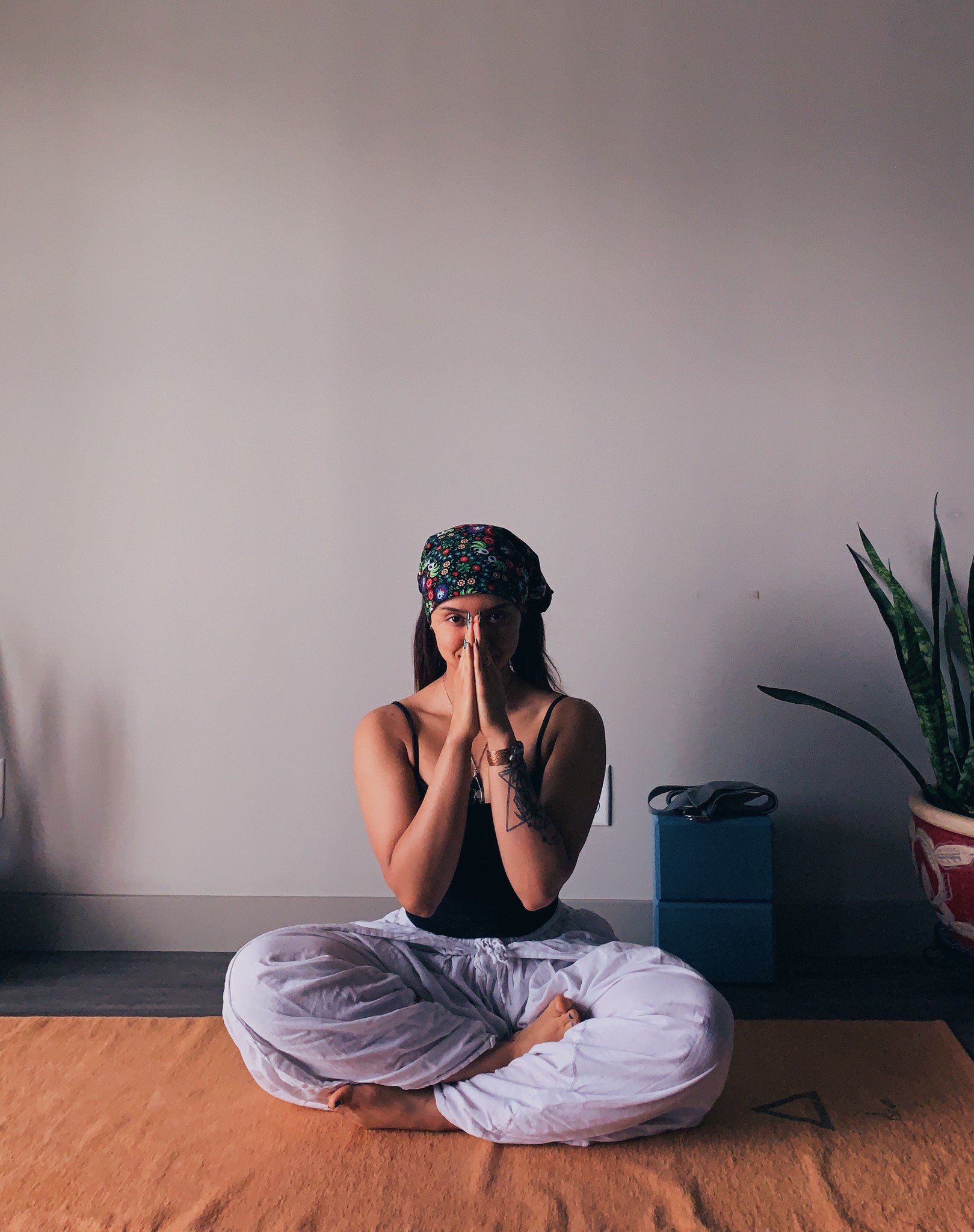 Epifhany 
Down to earth and undoubtedly dynamic, as our primary Bookkeeper; An aspiring accountant, Epifhany ensures that Bushwhacker is up to date when it comes to finances. Besides her love for the yogic sciences, you can catch Epifhany engaging in hiking, photography, gardening, writing, cooking, shopping for produce at the local farmers market, jamming to her favorite tunes at a concert, or from the comfort of her own home! She is always up for adventure and making connections with people. There is no doubt that her mission is simply to bring joy and laughter to those who come her way! Epifhany loves Bushwhacker for a number of reasons: the ability to provide a service that helps the store while strengthening her accounting skills, her down-to-earth and authentic co-workers, a work environment that is work-fun balanced, and all the outdoor adventure opportunities that come with being a Bushwhacker employee!