Bicycles take up almost half the floor at Bushwhacker during warmer weather. But folks interested explore just that half of the store.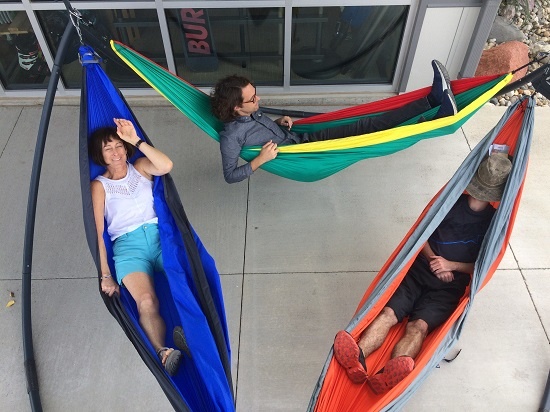 This might be a mistake—because the other half of Bushwhacker—the outdoor half—has a lot to offer people who ride bicycles. Consider just a few examples:
Whether you're intent on staying hydrated, caffeinated or just interested in keeping your favorite beverage on hand at all times, a Klean Kanteen is a great way to carry off your plan—and cut down on throwaway cups.
Osprey Radial 34 It's the ultimate bicycle commuter's pack with space for a U-lock and a helmet, a suspension system designed to keep you cool and comfortable—it even has a built-in kickstand.
Another from Osprey: the Raptor pack. Mountain bikers like the comfortable fit, built-in tool roll and easy to refill hydration reservoir. The magnetic hose holder keeps the hose securely within reach.
Patagonia Capilene baselayer. If you're still riding in cotton t-shirts during the summer, try a piece of more technical clothing sure to keep you comfortable in hot and cold weather alike. Capilene wicks moisture away from your skin and dries quickly. In cold weather, it's the first part of any good layering system.
Helinox camp chair Admittedly, not everyone is going to carry a chair with them on a bicycle, but the Helinox is a great way to improve your next bikepacking adventure. The weight is minimal and it folds into a small package.
If you're camping, a hammock system can be an alternative to carrying a tent and sleeping bag. If you're not camping, well, it's a hammock. Have it ready to go when you get back from the road or trail. It's just as fun as you'd imagine.
  SmartWool PhD and hiking socks. Wool socks for summer and winter. Moves moisture away from your skin, keeping you dryer longer. Long-fiber Merino wool ensures your feet are always comfortable.
Thinking about your next bicycle adventure? See us for more ideas—from all over the store.
And have a great ride.